Wann erscheint Stalker 2? Wie geht es den Spieleentwicklern aufgrund der aktuellen Situation in der Ukraine? Wird Stalker 2 dieses Jahr überhaupt noch erscheinen? Ich hoffe ich kann all diese Fragen klären.
GSC Game World und der Krieg in der Ukraine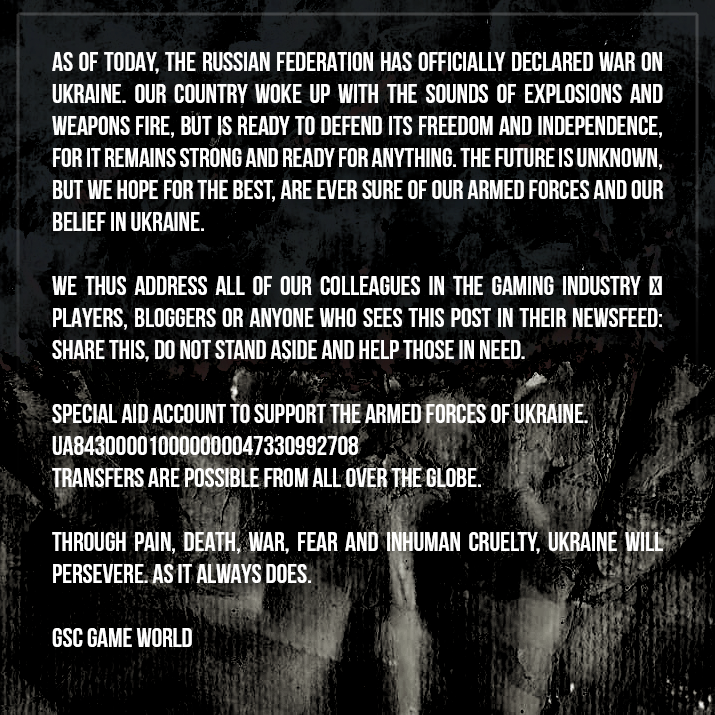 Mitteilung von GSC GAME WORLD:
AS OF TODAY, THE RUSSIAN FEDERATION HAS OFFICIALLY DECLARED WAR ON UKRAINE. OUR COUNTRY WOKE UP WITH THE SOUNDS OF EXPLOSIONS AND WEAPONS FIRE, BUT IS READY TO DEFEND ITS FREEDOM AND INDEPENDENCE, FOR IT REMAINS STRONG AND READY FOR ANYTHING. THE FUTURE IS UNKNOWN, BUT WE HOPE FOR THE BEST, ARE EVER SURE OF OUR ARMED FORCES AND OUR BELIEF IN UKRAINE.
WE THUS ADDRESS ALL OF OUR COLLEAGUES IN THE GAMING INDUSTRY
PLAYERS, BLOGGERS OR ANYONE WHO SEES THIS POST IN THEIR NEWSFEED: SHARE THIS, DO NOT STAND ASIDE AND HELP THOSE IN NEED. SPECIAL AID ACCOUNT TO SUPPORT THE ARMED FORCES OF UKRAINE UA8430000 10000000047330992708 TRANSFERS ARE POSSIBLE FROM ALL OVER THE GLOBE.
THROUGH PAIN, DEATH, WAR, FEAR AND INHUMAN CRUELTY, UKRAINE WILL PERSEVERE AS IT ALWAYS DOES.
GSC GAME WORLD
AB HEUTE HAT DIE RUSSISCHE FÖDERATION DER UKRAINE OFFIZIELL DEN KRIEG ERKLÄRT. UNSER LAND ERWACHT MIT DEM KLÄREN VON EXPLOSIONEN UND WAFFENFEUERN AUF, ABER IST BEREIT, SEINE FREIHEIT UND UNABHÄNGIGKEIT ZU VERTEIDIGEN, DENN ES BLEIBT STARK UND ZU ALLEM BEREIT. DIE ZUKUNFT IST UNBEKANNT, ABER WIR HOFFEN DAS BESTE, SIND IMMER UNSERER STREITKRÄFTE UND UNSERES GLAUBENS AN DIE UKRAINE SICHER.

DAHER RICHTEN WIR ALLE UNSERE KOLLEGEN IN DER SPIELBRANCHE, SPIELER, BLOGGER ODER ALLE, DIE DIESEN POST IN IHREM NEWSFEED SEHEN: TEILEN SIE DIES, STEHEN SIE NICHT ZURÜCK UND HELFEN SIE DEN BEDÜRFTIGEN. SONDERHILFEKONTO ZUR UNTERSTÜTZUNG DER STREITKRÄFTE DER UKRAINE UA8430000 10000000047330992708 ÜBERWEISUNGEN SIND AUS DER GANZEN WELT MÖGLICH.

DURCH SCHMERZ, TOD, KRIEG, ANGST UND UNMENSCHLICHE GRAUSAMKEIT WIRD DIE UKRAINE WIE IMMER DURCHHALTEN.
GSC GAME WORLD
Announcement
Release Date
So wie es aktuell aussieht, scheint GSC Game World das Spiel noch dieses Jahr im Dezember releasen zu können.
Was erwartet uns?
Ich denke jeder der über diesen Artikel stolpert hat vielleicht auch den ersten Teil gespielt. Die ganze Story von S.T.A.L.K.E.R. spielt in einer veränderten Timeline und knüpft mehr oder minder an den ersten Teil an, mit Horror, Ego-Shooter in einem postapokalyptischen Setting.
Das Spiel wird für den PC und die Xbox Series X/S erscheinen.